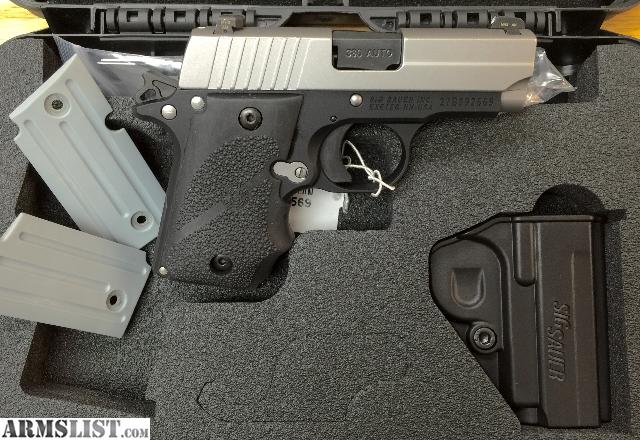 New In Box
Sig Sauer P238 Two Tone + SIGLITE Night Sights
$507.99 - Price does not include sales tax.
------------------------------
2nd Amendment Industries
Phone: (425) 503-2767 / ARMS
Email:
Sales@2AIndustries.com
Web:
http://www.2AIndustries.com
1299 156th Avenue NE, Suite 170
Bellevue WA, 98007 (Basement Level)
Directions:
https://goo.gl/maps/mLzJX
Tuesday: 5:30 PM - 8:30 PM
Thursday: 5:30 PM - 8:30 PM
Saturday: 10:00 AM - 5:30 PM
FFL Transfers: 2aindustries.wordpress.com/transfers/
Reacting to many requests from the marketplace for a subcompact SIG SAUER pistol, engineers designed the new P238 as a smart looking, small handgun built with the same accuracy and reliability as large frame SIG SAUER pistols. With an overall length of just 5.5 inches a height of 3.96 inches, and weighing just under a pound, the SIG SAUER P238 is the ultimate firepower in an all metal frame concealed pistol. The P238 is built on an anodized alloy beavertail style frame with fluted grips for comfort and a secure hold during rapid-fire usage. The stainless steel slide features the popular SIG SAUER slide serrations and improves overall performance and accuracy. Additionally, the contrast sights or available SIGLITE® Night Sights are removable and adjustable for windage. The sear and trigger return spring are redesigned to prevent spring over-ride of the ejector during assembly. The new SIG SAUER P238 is shipped in a lockable hard case with one 6 round magazine.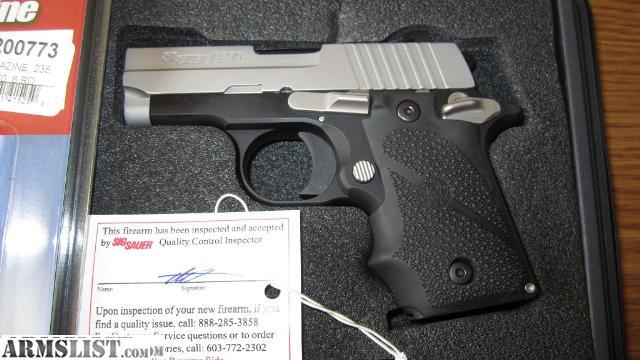 Item Number 238-380-TSS
Caliber .380 ACP (9mm short)
Action Type SAO
Trigger Pull DA N/A
Trigger Pull SA 7.5-8.5 lbs
Overall Length 5.5 in
Overall Height 3.9 in
Overall Width 1.1 in
Barrel Length 2.7 in
Sight Radius 3.8 in
Weight w/Mag 15.2 oz
Mag Capacity 6 Rounds
Sights SIGLITE Night Sights
Grips Fluted Polymer Grips
Frame Finish Black Hard Coat Anodized
Slide Finish Natural Stainless
Accessory Rail No
Features Beavertail style frame, fluted grips
MSRP $693.00
CA Compliant No
MA Compliant No
_________________
2A Industries, LLC
http://www.2aindustries.com
1299 156TH AVE NE, Suite 170, Bellevue WA, 98007 (Basement Level)
Tuesdays 5:30 PM - 8:30 PM
Thursdays 5:30 PM - 8:30 PM
Saturdays 10:00 AM - 5:30 PM
email:
sales@2aindustries.com
phone: 425-503-ARMS / 2767
Like us on Facebook!
https://www.facebook.com/2Aindustries