I promised in a couple other threads that I'd post my powder coating process, so here goes. This is a copy of my posts on a couple other forums, dating back to 2013. I've changed some minor details in the years since, and will try to include all of that here.
A couple points first:
- This process works best with larger batches of bullets, at least a few hundred at a time. If you're trying to coat only 50-100 bullets at a time, don't expect very good coverage.
- Powder choice matters a lot. Skip the Hobo Freight powders, they really don't work as well.
- Container choice matters too. The white plastic yogurt or sour cream tubs always work well for me; don't substitute other container types. I suspect these containers build up static to aid in coating.
- Finally, I don't make any money off of powder coating or posting this, I'm just sharing to help out fellow casters. If you prefer a different method, that's fine with me. My method is optimized for fast, easy, and efficient coating, not for aesthetics.
These are 9mm 105gr hollow point bullets from a Lee mold I modified. I shoot them at 1450 fps from my Glocks, so the coating has to be pretty tough. That doesn't mean it has to take a long time to apply though. The pics below illustrate less than 1 minute of effort on my part (other than taking the pics) for coating, and another 8-10 minutes for separating and sizing about 200 to 250 bullets.
A quick note about powder BTW - not all powders are equal, in fact, none of them are equal, in my experience. Each one behaves slightly differently, even just different colors of the same brand/lineup. The powder below is RAL 6018 Yellow Green from Powder Buy The Pound
About this much powder for one coat; this is roughly 200-250 bullets. Use a plastic recyclable yogurt or sour cream tub.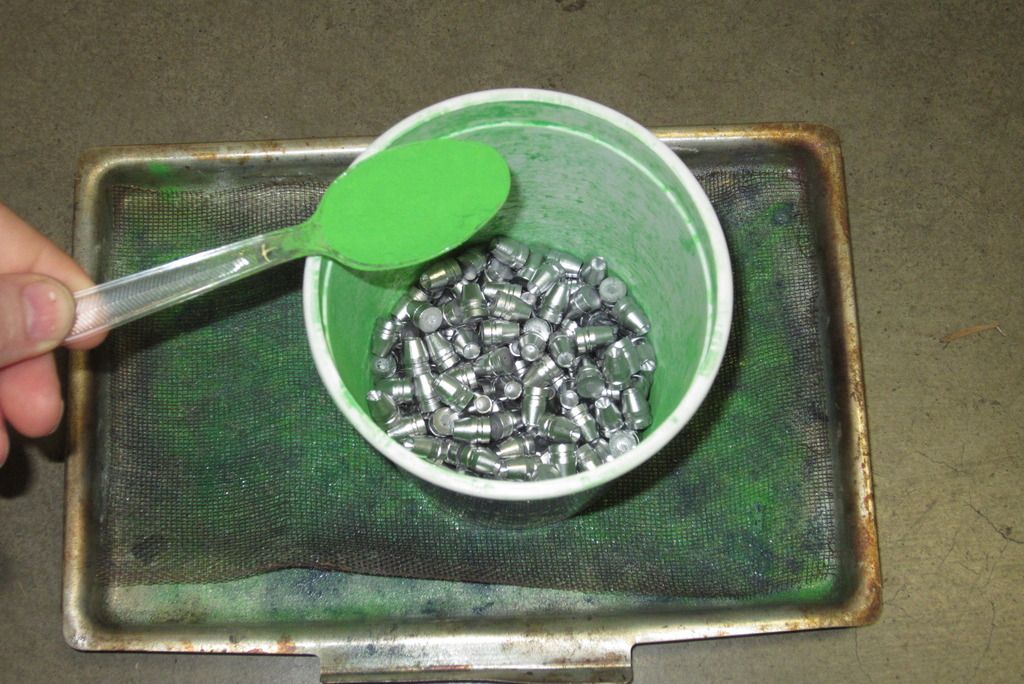 About what it should look like dumped on the bullets. If you get the quantity right, the bullets will be coated like below, with little or no extra powder left in the tub.
Edit - adding this pic for health protection, see post on page 2. Put the bullet container in a gallon ziploc bag before shaking to contain powder that escapes, you want to avoid inhaling the dust.
15-20 seconds of shaking by hand, hard. I do mean shake it hard; build up some static in there by swirling the bullets around, and get that powder floating around in the air. If you're holding the tub in one hand, you aren't shaking hard enough. You should feel like you got a little exercise from shaking the container of bullets.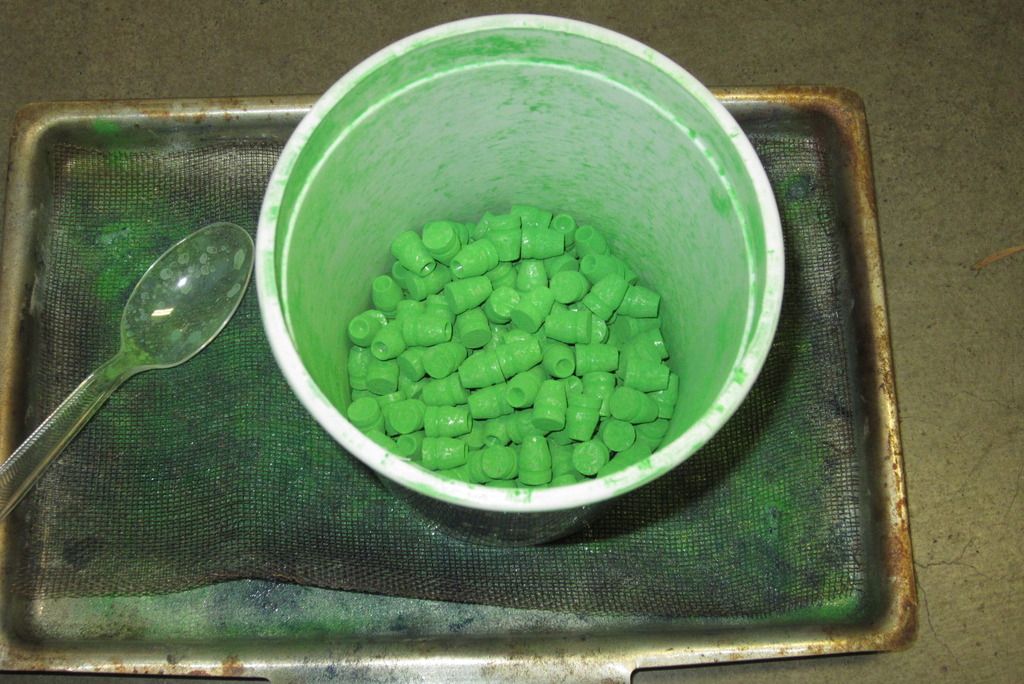 Dump them out on a tray, doesn't matter if they touch each other. I use a metal screen in the tray to avoid flat spots. Note - the amount of bullets shown here is kind of a minimum for good results; I'll normally coat 3-4x more at once, they'll be piled several layers deep on the pan. Do not touch them with your fingers!
20 minutes bake time in the toaster oven at 400* F (temp varies for different powders). You MUST use a thermometer to verify oven temp. Do this in the garage, not the kitchen, unless you're planning to get divorced soon.
Separated, ready to size (use a push-through Lee sizer die). Notice the thin or bare spots, and marks from the screen and touching other bullets - those don't matter. These bullets pictured are every bit as accurate as any jacketed bullet in my Glocks, and will chew out the X ring at 10 yards. These have only one powder coat and are adequate for most pistol loads; you can do a second coat before sizing if you want better coverage. I don't recommend more than 2 coats.